Thornton Waldo Burgess (1874 – 1965) was an American author of children's stories. Thornton's father died when Thornton was only one-year-old and he was raised by his mother in humble surroundings. As a youth, he had to work tending cows, shipping water lilies from local ponds, selling candy, and trapping muskrats. One of his employers lived on Discovery Hill Road, a wildlife habitat of woodland and wetland, and much of his childhood was spent exploring the flora and fauna, fishing and picking berries. This habitat became the setting of most of Thornton's later books and stories.
In Burgess' first book, Old Mother West Wind, the reader meets Peter Rabbit, Jimmy Skunk, Sammy Jay, Bobby Raccoon, Little Joe Otter, Grandfather Frog, Billy Mink, Jerry Muskrat, Spotty the Turtle, Old Mother West Wind, and her Merry Little Breezes, and these characters form the backbone for his later books.
Thornton Burgess books on Librivox.
Thornton Burgess books on audible.
Books by Thornton Burgess on Gutenberg.
Throughout the years, Harrison Cady (1877-1970) illustrated the Thornton Burgess books.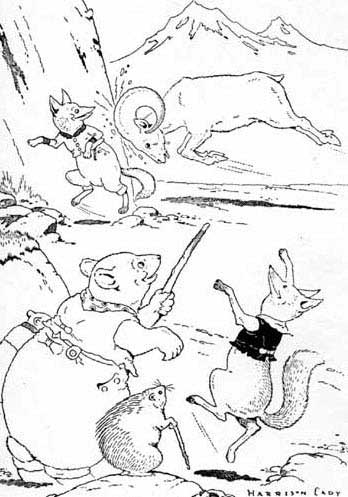 An early illustration by Harrison Cady