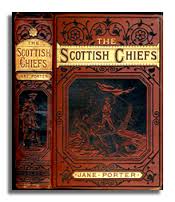 Here we have a thirteenth-century Scotland overrun by tyrants — English soldiers doing the bidding of their King Edward who was bent on nation-building and greed.
Here we have a freedom-minded people who acknowledge none but the laws of God and their own country, and will never submit to a tyrant's law.
"I am Sir William Wallace's wife," returned the gentle Marion, in a firm tone, "and by what authority you seek him thus, and presume to call him guilty, I cannot understand."

"By the authority of the laws, madam, which he has violated."

"What laws?" rejoined she, "Sir William Wallace acknowledges none but those of God and his country. Neither of these has he transgressed."

The officer replied, "This night he assassinated Arthur Heselrigge in the streets of Lanark; and that condemns him, by the last declaration of King Edward: Whatever Scot maltreats any one of the English soldiers, or civil officers garrisoned in the towns of Scotland, shall thereby forfeit his life, as the penalty of his crime."

"A tyrant's law, sir, to which no free-born Scot will submit! But even were it allowed by my countrymen, in this case it can have no hold on my husband…"
The Lady Marion stands up for her man, her country, and her God.
Oh, poor Marion! And even more, poor Wallace, when he finds out what those soldiers do to try and destroy his life — and all for the defense of an evil king bent on nation-building and greed.
"What is it you intend, my lord?" cried Halbert, viewing with increased alarm the resolute ferocity which now, blazing from every part of his countenance, seemed to dilate his figure with more than mortal daring. "What can you do? Your single arm –"

"I am not single — God is with me. I am His avenger. Now tremble, tyranny! I come to hurl thee down!…remember that God armeth the patriot's hand….Heaven has heard me devote myself to work our country's freedom or to die. Who will follow me in so just a cause?"
The Scottish Chiefs by Jane Porter, a somewhat romantic piece of historical fiction, is the story of Scotland's patriot William Wallace and his fight against the hated English King Edward, set in the late 1200s. If you can, buy the edition that is illustrated by N.C. Wyeth. After you read The Scottish Chiefs, read G. A. Henty's version of this time period — In Freedom's Cause — and compare the two versions.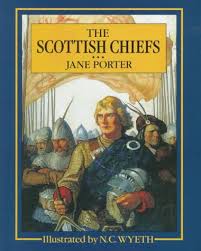 The Scottish Chiefs is considered by some to be a difficult read — complex sentences and advanced vocabulary. If it seems too hard at first, persevere through the first 50 pages before giving up. You'll probably find you like it, and your family will benefit from reading it to the end. The movie Braveheart is based on The Scottish Chiefs.
This book is now out of print and can be found on various public domain sites.