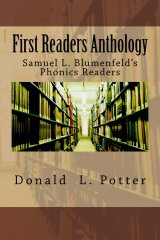 Samuel L. Blumenfeld's Phonics Readers
Authored by Donald L. Potter
The First Readers Anthology is a collection of phonics readers (phonetically decodable texts) that were originally published in 1997 as eleven individually stapled booklets to be used with popular Blumenfeld's Alpha-Phonics Reading Primer. The reading levels progress from beginning to upper elementary, virtually covering all the major spelling patterns of the English language. They encourage the development of fluent decoding and good comprehension. They can be used with any phonics reading program that starts with the short vowels.
These are the readers to use if you want children to read well without guessing from pictures or sight-words.
About the author:
Mr. Potter taught bilingual, Spanish, dyslexia, and amateur radio classes as a Texas public school teacher for twenty-one years. Upon retiring from public education, he started teaching for the Odessa Christian School in Odessa, TX, where he teaches Spanish and remedial reading. He has a very busy tutoring practice on the side.
He has successfully taught Blumenfeld's Alpha-Phonics to classes ranging from one to sixteen students. Many of his students were Spanish speaking children with limited English speaking ability.