Dear Harvey and Laurie,
I just published my Psalms Reader with CreateSpace.
The book contains 90 Psalms from the 1650 Scottish Psalter that I felt were appropriate for little children. I did not include the Imprecatory Psalms. All the polysyllables are divided into syllables. The design of the book is to help students improve reading fluency, develop moral character, give them a taste for meter and rhyme, and to set their hearts aflame to worship their Creator. I am working with a wonderful Christian singer to see if we can produce an audio CD to assist parents in using the Psalms for devotions with their children. There is a list of sacred and secular tunes that can be used to sing any of the Psalms in the Psalter. Historically the Psalter was the first thing children read after the ABC, syllabary and primer. Much of the literary taste of the Elizabethan Age was a direct result of the population singing the Palter in worship from a very young age.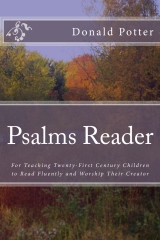 I think parents following the Christian Classical Model will find it a tremendous aid in helping their children.
May God's marvelous grace continue to bless your family and work.
Donald Potter, Odessa, TX