Don Potter just published a new edition of Webster's 1908 Elementary Spelling Book. His title better reflects the true nature of the book, Noah Webster's Spelling Book Method for Teaching Reading and Spelling. He has spent years investigating how the syllabary was used to teach reading and spelling and has been using it lately with children as young as first-grade. Webster had written decodable text as far back as 1829. The 1908 book is essentially the same as the 1829 edition — there were minor improvements, but no major changes during all those years.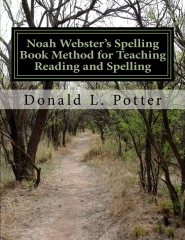 Mr. Potter's Spelling Book Method of Teaching Reading Reference Page has everything you wanted to know about spelling books, especially Webster's.
Here is our article on How to Use Webster's Speller to Teach Spelling, Handwriting, Grammar, and Vocabulary.