1. The Little Red Lighthouse and the Great Gray Bridge by Hildegarde H. Swift and Lynd Ward
This is one of the great children's books, but one I didn't find until recently. My grands love me to read it — especially because they know that at a certain page Grammy cries.
2. Corduroy by Don Freeman
Corduroy is warm and fuzzy and he finds his forever friend. I probably read this to the grands more often than any other.
3. Make Way for Ducklings by Robert Mccluskey
I've loved this book ever since Captain Kangaroo read it aloud to us on TV over 50 years ago.
4. Thy Friend, Obadiah by Brinton Turkle
We discovered the Brinton Turkle books at the Muscatine Public Library in the mid 80's and we've been collecting them ever since. Lovely books about Amish families set in early New England.
5. Who's Got the Apple by Jan Loof
The ideal children's picture book is one which is loved by the child AND the parent — that way the parent reads it more often and the child gets read to more often. Who's Got the Apple is Harvey's favorite to read aloud.
6. The Little Train by Lois Lenski
Once you read a Lois Lenski book, you will want to collect them all. Her illustration style is appealing to children and adults.
7. The Biggest Bear by Lynd Ward
My kids and grands have a love/hate relationship with this book. If page 52 is so scary, why are they insistent that I read it?
8. A Is for Annabelle by Tasha Tudor
Beautiful book about Grandmother's china doll and her fancy clothes.
9.We Help Daddy
by Mini Stein and Eloise Wilkin
Eloise Wilkin is my favorite illustrator. You can listen to an interview we did with her daughter here.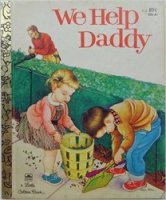 10. The Tale of Peter Rabbit by Beatrix Potter
If you enjoy reading aloud with accents and drama, you'll love every Beatrix Potter story.