Do you suppose that when we get to heaven there will be thousands of video rooms where we can watch reruns of history. In one room there will be a recording of Noah and his sons building the ark and caring for the animals during that year on the water. In another room we can see David fighting Goliath, or who really was the pharaoh of the Exodus.
History, along with its companion subjects of chronology and geography, has always been my favorite. I think that might be because I learned next to nothing about history growing up — I wanted to, but school hindered me from it. They kept us too busy memorizing dates and names to leave any time for the best part of history — the STORY part.
Chronology is the science or study of locating events in time and arranging these events in order from earliest to latest. People usually write out chronologies on timelines.
I'd like to list for you here a few of the curriculum resources our family has found useful in our study of ancient history.
Beechick, Ruth. Adam and His Kin: The Lost History of Their Lives and Times

An important book giving children a biblically accurate overview of the book of Genesis, told in a narrative style. Read it to the children before beginning your study of ancient history.
Bloom, Jan. Who Should We Then Read?

A 250-page reference guide containing titles of 140 biographies of authors of great books for children and young adults, and alphabetical lists of quality series such as Landmark, We Were There, Vision Biographies, and Childhood of Famous Americans.
Bluedorn, Harvey and Laurie. Ancient History from Primary Sources: A Literary Timeline
A reference book which guides the student on a selective timeline tour through ancient history, outlining the major events and personalities, and noting the primary literary sources from which these things are known. Time-wise, the book covers the period from creation to the fall of Rome in A.D. 476. Space-wise, it covers the civilizations of the near east and west. Each event or person in history is accompanied by suggested readings from various ancient sources.
Creation magazine — September/November 2005 issue
Small two-page color timeline which covers creation through 70 A.D and follows Ussher's dates. This timeline is the best compact, all inclusive record of Biblical events. All important events and people are included so you can see at a glance who did what, when.
Dang, Katherine, ed. Universal History-Volume I – Ancient History- Law Without Liberty (Universal History, Volume I) (I)

A large, beautiful volume which matches the other big, red books published by the Principle Approach people, and is a chronological compilation of excerpts from 18th, 19th, and early 20th century history textbooks. Included are numerous detailed timelines, maps, and genealogical charts. The text is the Principle Approach application to ancient history. Not primary sources, though.
Grun, Bernard. The Timetables of History: A Horizontal Linkage of People and Events

This book lists what happened in the world for every year since Creation. It covers politics, literature, theater, religion, philosophy, learning, visual arts, music, science, technology, growth, and daily life. You will find listed the titles of works by well known and lesser known scientists, historians, and fiction and nonfiction writers.
Guerber, H.A. The Story of the Romans

If you could judge a book by its cover, then this reprint of Guerber's Story of the Romans would get an A+. But that's not the only great thing about it ­– it's the literary value that makes me love it. Mrs. Guerber has turned dry history textbook facts into a fascinating, yet accurate and pleasing story that children and adults of all ages will enjoy. I don't believe in talking down to children, and that's another reason why I like the Guerber books ­– the vocabulary and sentence structure are complex enough to grab older kids and adults, yet younger children will be perfectly capable of understanding them.
Guerber, H.A. The Story of the Greeks

Here's another one of the great Guerber reprints. This one tells the history of the Greek culture in a way that everyone can understand. The black and white illustrations are lovely and can be used for copywork.
Hobar, Linda Lacour.
The Mystery of History combines a detailed historical narrative with lesson plans, tests, and projects. I love the Biblical emphasis, the thoroughness, the ease of use, and the lay-out of this curriculum. The narrative is both historically accurate (she doesn't get into speculation or mythology) and entertaining. Recommended for grades 4-8, but I think K-3 could also use it.
Hulcy, Jessica, Sarah Rose, and Carole Thaxton. KONOS History of the World: Year One, The Ancient World
KONOS is the earliest model of the unit study curriculum from which all other unit study curricula have been patterned. History of the World Year Iconsists of Bible study, timeline events, lists of noted people, map study, related vocabulary lists, and activities all taught chronologically beginning with Creation and ending with early Rome. Research, dialog, reading classical literature, and writing are combined with creative and challenging activities to make the study of history light years away from the tedious way we studied history in our public school days. Geared to students in grades 9-12, but I'm sure some seventh and eighth graders could benefit from it as well.
Hull, Edward. The Wall Chart of World History (From Earliest Times To The Present)

Large fold-out timeline. Follows the chronology of Archbishop James Ussher. My favorite timeline.
Miller, Christine. All Through the Ages: History through Literature Guide

Extensive compilation of books arranged chronologically and geographically. For all ages.
Miller, Michelle. TruthQuest History Guide- Beginnings: Creation / Old Testament / Ancients / Egypt

These study guides, which can be used by students of all ages, contain short, concise historical commentary along with exhaustive book recommendations (both in-print and out-of-print) for every key person and event covered. Also included are writing exercises placed throughout the commentary. I love the cautions that Michelle gives us. At numerous points she suggests that we be careful in our study of ancient Egyptian, Greek, and Roman civilization, and she shows us which books would not be appropriate for young children or even some older students. There is just enough commentary throughout the books to guide us and keep us on the correct path so that we won't leave out any important historical events or people. A family is free to spend as long or as little time at each stop on the timeline as they wish.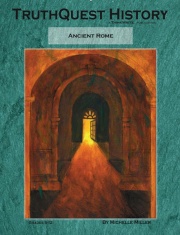 Reese, Edward. The Reese Chronological Study Bible: King James Version

Another tool I believe to be indispensable if you are studying ancient history. The Bible was not compiled in strict chronological order — either by the Jews, or by the Gentiles. Even some portions of the historical books seem to be out of chronological order. There are numerous chronological issues which seem to be unresolveable on the basis of Biblical data, so they require presuppositions and speculations just to come up with theories. If you use a chronologically arranged Bible, such as The Reese Chronological Bible, you will be following Dr. Reese's theories which are not adequately, if at all, explained, and you often won't be able to separate the sound chronology from the speculative chronology. That's okay, as long as you understand this before you begin. I would supplement this Bible with a couple of books on chronology so you can at least appreciate the complexity of the issues and different attempts at resolving them.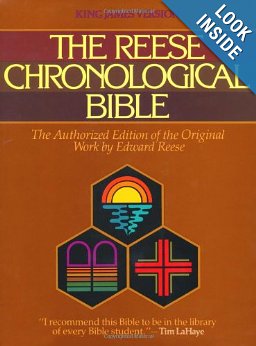 Shukin, Barbara. Ancient History Portfolio and Timeline (A History of First Civilizations Through the Classical Age)

A sturdy spiral-bound book of blank maps and spaces for drawings, narrations or reports. Also contains a uniquely designed timeline for students to add dates and drawings. Can be used to supplement any history curriculum.
Somerville, Marcia. Tapestry of Grace Year 1

A comprehensive unit study curriculum combining the subjects of history (studied chronologically), literature, geography, writing, vocabulary, government, fine arts, and church history. Each week the student will read history and literature, discuss what he reads, and communicate what he has learned through writing projects, displays, activities, and oral presentations. The curriculum is thorough and detailed, and is an excellent application of the trivium approach, with the student activities divided into four levels: lower grammar, upper grammar, dialectic, and rhetoric.
Stanton, Mary and Albert Hyma. Streams of Civilization: Earliest Times to the Discovery of the New World: Volume One

Good all-round history text from a Christian perspective.
Ussher, James. The Annals of the World

In 1654 Archbishop James Ussher finished researching and writing The Annals of the World, a comprehensive history of the world covering every major event from creation up to AD 70. In writing his history, Ussher read everything about ancient history that existed in the 17th century (many of these works have been lost to time or are no longer available for study), and his work is extensively footnoted with thousands of references to ancient writers. This work is actually a summary of what the ancients wrote. The book was written first in Latin, and then in 1658 translated into English. Today, Larry and Marion Pierce have revised, updated, and translated The Annals into modern English. All the footnotes have been updated to reference works in the Loeb Classical Library, and all Ussher's original citations have been checked against the latest textual scholarship. This book will prove to be the most valuable source of all time for the study of ancient history and chronology.
Walton, John H. Chronological and Background Charts of the Old Testament (Zondervan Charts)

Dozens of charts which help us understand the history, literature, archaeology, theology, and chronology of the Old Testament.
"It is safe to say that, if Genesis 5 were not in the Bible, and if a tablet were exhumed, say in Assyria or Egypt, bearing the same concise statistical statements, it would be hailed as the most wonderful and valuable relic of antiquity. And not only so, but many who attach little or no importance to the statements as found in the Bible, would give full credence to the very same statements, if recorded by some unknown Egyptian or Babylonian sinner." —Wonders of Bible Chronology – from the Creation of Adam to the Resurrection of Jesus Christ
by Philip Mauro