Dear Nathaniel and Hans,
Just wanted to let you guys know…
YOU'RE HILARIOUS!!
I was an elementary school teacher at a Christian school for a few years, but started hanging around with homeschooled families in my church and realized many things about education. Now I am a private homeschool tutor. I work with 7 children (from 4 different families).
With one family, I read your book The Fallacy Detective to their two boys. We laughed so hard and found your examples excellent. We had a list on the wall of all the logic fallacies, and the boys' older sisters told me that they wished I had never taught the boys logic because they are now always correcting the rest of the family.
Now we're going through The Thinking Toolbox. We absolutely love it. Aside from building excellent thinking skills, it also gives great exposure to some of the controversial issues in the world.
I've been a Christian since I was 15, and though I was the president of the Christian club at my college, I preferred spending time at the philosophy club because even though they were lost, they were honestly seeking, and those people were more reasonable in the way they explained their beliefs. I have seen MANY Christians attempt to defend their faith but just prove themselves irrational and ignorant and make the rest of us look foolish.
Thank you for helping to prevent that from happening with the next generation!!
Lauren Bleser
in Poteau, Oklahoma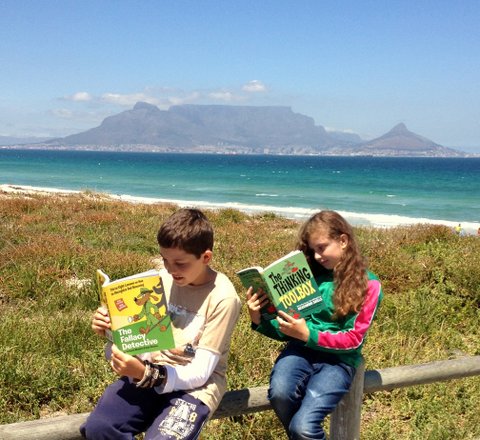 Toodles at the Cape of Good Hope
Toodles eating a pretzel in New York
Toodles in an African desert