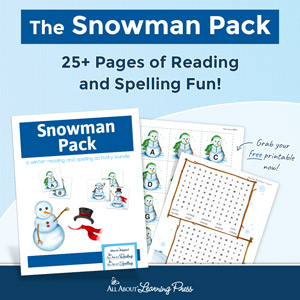 Here's a brand new and super cute resource from All About Learning Press.
Introducing the Snowman Pack!
What's in the Snowman Pack?
This snowman-themed reading and spelling activity bundle includes:
–Snowman ABCs: a great way for preschoolers to gain pre-reading and beginning reading and spelling skills.
–Rhyming Snowmen: help the snowmen match pairs of rhyming words from All About Reading Levels 1-4.
–Snowman Word Search: practice reading and spelling skills with words from All About Spelling Levels 1-7.
–Build a Snowman: build your own "paper doll" snowman by mixing and matching snowman accessories.
–Enjoy a yummy Snowman Snack.
–Read a few Snowman Picture Books from our Library List.
All of these activities correlate with All About Reading and All About Spelling, but they can easily be used with any curriculum.