Starting today and through December 8 we'll be offering a special 40% off sale on these four items:
Teaching the Trivium: Christian Homeschooling in a Classical Style by Harvey and Laurie Bluedorn — $20.40
A Greek Hupogrammon: A Beginner's Copybook for the Greek Alphabet with Pronunciations by Harvey Bluedorn — $12
Ancient History from Primary Sources: A Literary Timeline by Harvey and Laurie Bluedorn — $18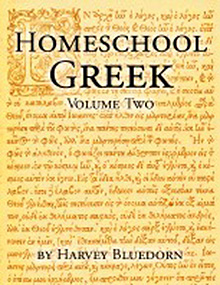 Homeschool Greek Volume Two (Beta Version) by Harvey Bluedorn — $33
In addition, each order of $50 or more will receive a free Johannah Bluedorn Stanford art print (our choice). You must request the art print by email (bluedorn @ triviumpursuit.com) at the time of your order. You can see the art prints here and here and here.